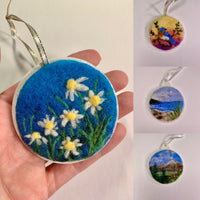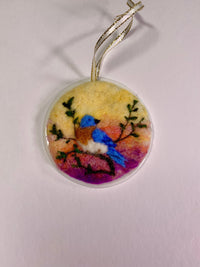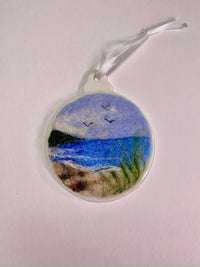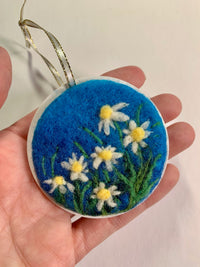 Needle-felted ornament class
The first 2D ornament class is ready for you! Join us Sunday Dec 3 at 1pm to learn how to create a unique ornament in this step by step class led by Laura Gutzwiller. Choose from these two designs or create your own! Advice and help will be given to assist you in your creation of choice. Laura will talk a bit about how felting works, the types of wool you'll be using, and explain the different types of felting needles. During this class, you'll be using a multi-needle tool, some single needles in comfortable handles, and be working on a firm wool mat for the best control. This class is unique- you'll learn how to make a miniature two-dimensional wool painting that is only about 2" in diameter! You'll learn how to make your tiny wool art durable enough to be attached to a flat round ornament backing, and be given a perfect little box for gift giving or storage! 
This is a combined beginner-friendly and intermediate class! Laura will spend one on one time during class teaching more advanced techniques to those who are ready for a challenge! Come for a relaxing, fun class and learn a new skill to encourage your creativity! 
All materials are included to create one ornament, but you might want to buy a felting needle to bring home and continue working on your ornament or add extra details. 
Needles are very sharp, so it is not recommended for children younger than 12. This is a detail oriented class, so come with patience and a smile!