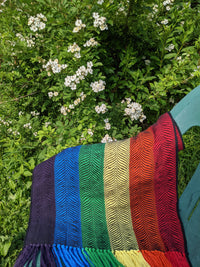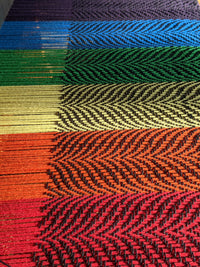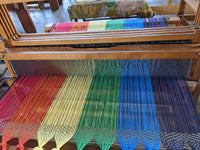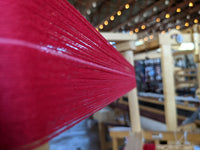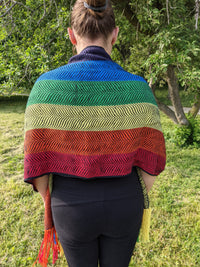 2021 Pride IMPACT Weaving Kit
*A portion of the proceeds from each kit will be donated to The Trevor Project.*
Weave a shawl that shows your pride! This undulating twill shawl is perfect for cool summer nights. Made from 100% unmercerized cotton, it is soft and feels good wrapped around your shoulders. 
The finished product is about 21.5 inches wide after wet finishing (25 inches in the reed), and the kit includes 4 yds of warp - more than enough to allow you to sample and still make a 75 in shawl with fringe. 
Each kit contains:
Pre-wound warp
8/4 unmercerized cotton
62 ends per color (red, orange, yellow, green, blue, and purple)
16 ends black (for selvedges)
4 yds, pre-wound and chained with crosses at both ends (If you want a longer warp, please contact us for options.
Weft
Draft
Large, clear draft with threading, tie-up, and treadling included
Instructions
Support
We want you to enjoy your project, so if we can help, please let us know - we are glad to offer support.