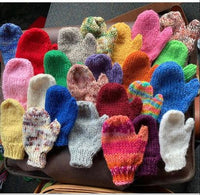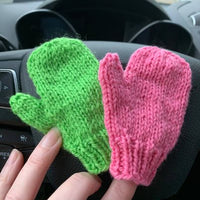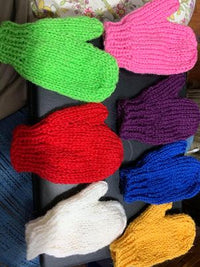 Mini Mitten Workshop
In this class we will knit a mini mitten that can be used as a decoration, a gift card holder, or gift tag! (Adventurous knitters may even choose to knit 24 mini mittens to use as a trendy advent calendar!)
We'll talk about how to use mini-skeins or leftover bits and balls of yarn from past projects to make mittens. And? These mittens will have functional thumb holes (made with gussets) so after this class you'll have the skills needed to make mittens for the hands of your loved ones. For this class, you should already know how to cast on, knit, and purl. Be ready to learn to knit in the round along with a simple increase and decrease.
Hand-dyed yarn and pattern will be provided. Each student will need to bring a size 3 or 4 32" cable needles or size 3 or 4 double point needles.
Instructor is Chris Hadaway. Chris fell in love with making and creating as a young child when she could always be found surrounded by beads, string, glue, glitter, and paper. Over the years, she taught herself to crochet, knit, spin, weave, and sew and she loves to be surrounded by all the various supplies at all times.